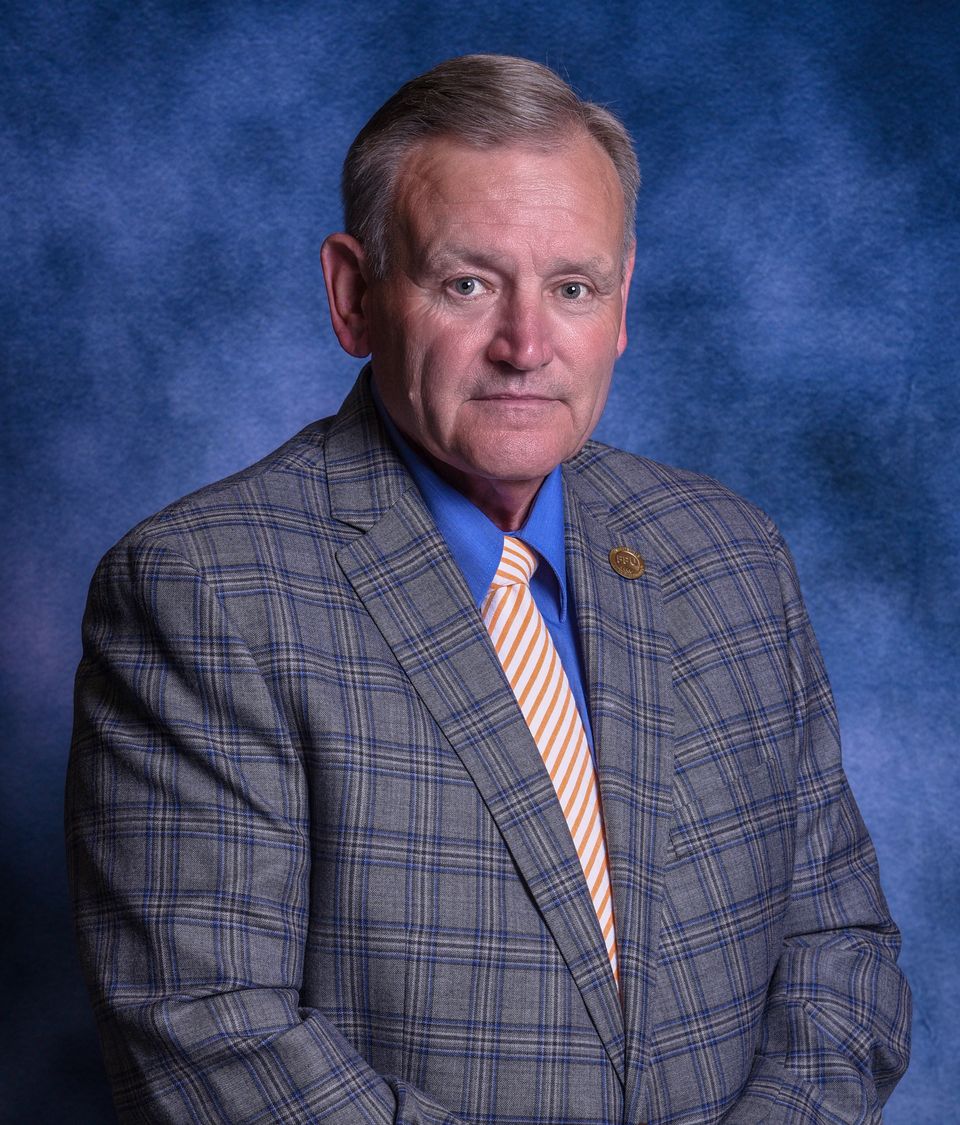 CEO/GENERAL MANAGER BRITT DYE

Britt began his career at Fayetteville Public Utilities on June 14, 1977 as a Groundman. He worked his way up through the ranks over the years, holding the positions of Apprentice Lineman, Journeyman Lineman, Director of Substation and Metering, and Director of Engineering and Operations. Britt has served as CEO/General Manager since 2006.

Here are a collection of thoughts from Fayetteville Public Utilities' CEO/General Manager Britt Dye. Check back for regular updates on the happenings at FPU.
The Power of Giving
As a child, I remember the excitement and anticipation of receiving gifts during the holidays. The boxes wrapped in Christmas paper held mysteries that I could only imagine until I was able to open them and discover what was inside.
Now that I am older, receiving gifts is still a joy, but I have found greater happiness comes from giving. At Fayetteville Public Utilities, we have a strong tradition of giving back to our community through the work we do, the time we give and the people we help.
FPU gives our customers the gifts of reliable and affordable electricity, water, sewer, natural gas and telecommunications. We take pride in knowing that our services provide our families, friends and neighbors with comfort, convenience and peace of mind. It is an honor to deliver sustainable services that improve the quality of life for today and for years to come. We are dedicated to the work we do and the services we provide.
FPU gives our customers the gift of time. Whether on the phone, in person or in the field, our employees devote time to caring for the needs of our customers. Utility workers dedicate hours to maintaining, upgrading and improving equipment to keep services resilient and interruptions minimized. In the event a disruption occurs, customers can count on FPU to be available 24 hours a day, 7 days a week. We are here to serve our customers and their utility needs.
FPU gives back to the community by donating to local charities. Employees sponsor an annual ribeye sandwich sale to raise funds for charities like the American Heart Association and The American Cancer Society. Employees are honored to volunteer at local charitable organizations including the Hands of Mercy Mobile Food Pantry. Throughout November and December, FPU employees sponsor the Harvest of Hope Food Drive to collect canned and nonperishable food donations for the Good Samaritan Association of Lincoln County to benefit those in the community with food insecurity. Project Help is another way many employees and customers give back. By adding a dollar or two to their utility bills each month, participants offer a helping hand to our neighbors needing assistance with heating costs. At FPU, we care about meeting the needs or our community.
FPU believes in giving our time and our assistance to make a difference and to improve the quality of life for those we serve. This year, while sitting around a beautifully lit tree warmed by a natural gas fireplace with the aroma of cookies baking in the oven, our customers can be assured that FPU is caring for their needs through the power of giving.
Update Posted​​​​​​ ​12/01/2022
Effects of Supply Chain Shortages
As trusted partners of Fayetteville Public Utilities, we want to thank you, our customers, for entrusting us with your utility needs. We also want to keep you updated on issues that could potentially impact our workflow and yours.
Many of you have probably experienced recent supply shortages and price increases. FPU has also felt the strain of supply chain and material inventory issues. Below are some important details concerning our current inventory as well as our delivery expectations and availability.
Like other utilities across the country, FPU has experienced longer lead times and increased costs for a wide variety of materials commonly used in our industry to construct our utility system. Transformers, wire, streetlights, conduit, PVC pipe and water/gas/electric meters are in short supply. FPU has even experienced short supplies of basic hardware, such as bolts, nuts, washers, etc.

As FPU crews work each day to repair and maintain our system, they are more mindful than ever of the need to preserve materials while still adhering to the highest quality of workmanship and safety requirements.
To meet these standards, we are working closely with developers and prospective industries to deliver quality services to existing homes and businesses by prioritizing our current materials supply for maintenance and replacement. Due to this effort, supplies may not be available for all projects under construction. Supply shortages could also prevent us from providing timely installation of electric, gas, water/wastewater and telecom services for future developments.
Please be assured that FPU makes every effort to maintain materials and inventory, so all projects stay on schedule. We realize that delays of this nature impact construction schedules; therefore, we will request frequent updates from our suppliers regarding expected orders.
Working together, we will overcome these challenges and keep projects moving forward. We appreciate your business as well as your continued patience and understanding.
Update Posted​​​​​​ ​10/18/2022

Public power builds better communities
Like many of you, I desire for my children and grandchildren to reside in a community where they can grow and thrive. I want them to have the conveniences that make life easier and more enjoyable. When I inventory those conveniences, it becomes evident just how important public utilities are to our community. From connecting with family members to sharing a meal around the table, utilities play a huge part in our daily lives. I consider it a responsibility and privilege to work in utilities where I contribute to my family's quality of life as well as yours.
Since we operate right here in the community and serve our friends and neighbors, we care deeply about customer service and providing reliable and affordable electricity, water, sewer, natural gas and telecom services. Knowing our community and its needs helps us keep homes, schools, businesses and public places powered year-round. Our crews work hard to keep your utilities on 99.97 percent of the time, and I'm very proud of our track record.
FPU has worked together with TVA for many years to build a better quality of life for our community. Today, we continue to partner and invest in the technology that allows us to quickly adapt to our rapidly changing world.
This resilience keeps our services reliable and our community thriving. You can count on us to continue making smart investments in our system to increase reliability, maintain sustainability, reduce costs and improve our customer experience. We take pride in the work we do.

As we celebrate Public Power Week, October 2 – 8, we want to focus on educating the next generation of Fayetteville Public Utilities' customers. Our goal is to help our young consumers learn more about the services we provide and the public heroes who keep our community up and running daily. We hope young people in our community and their families acknowledge this vital service and maybe even look to the utility as a great place to work down the road.
During Public Power Week, FPU invites community members to join us in celebrating the hometown advantages of living in a public power community. Those benefits include low rates, high reliability, customer service, local control, and community focus. FPU is here to serve wherever life may take you in the community. For more information, visit fpu-tn.com and like us on Facebook, Instagram and Twitter.
Unplug with meaningful community programs
Most adults have a vague memory of a time when "checking for messages" meant listening to an answering machine. We carried on with our days without relying on By cell phones and managed just fine. But today, we are more connected than ever through our smart phones and other devices.

Our phones are so much more now––from cameras to calendars to social media connections––and truly disconnecting from them can be tough. But it's even harder for our kids to unplug because they only know life with these tiny screens. It's difficult for them to imagine life without computers, gaming devices, tablets or cell phones.

But there's great value in unplugging for children and adults, even if it's for just a short period of time. For kids, time away from the screen to be outside with other children allows them to connect with nature and others in a way that a virtual experience simply does not allow. They are able to experience life in the moment and allow their creativity and energy to break free.

Fortunately, we have access to great community programs and organizations like 4-H, Boy Scouts, Girl Scouts, etc., that provide children with a safe place to play, learn and grow, while cultivating new skills and interests. These types of clubs and programs offer kids an opportunity to explore activities and interests outside of school academics. Children can investigate areas they might not otherwise have access to and discover new interests and passions. They often learn new skills and strengthen existing ones.
It's no secret that the broader the range of experiences and activities children are exposed to, the more likely they are to find their own path and possibly a career.
Community programs also foster important leadership development and public speaking skills. Through guided and informal play and activities, children learn problem-solving and interpersonal skills that enable them to resolve conflicts peacefully and improve interpersonal relationships.

Adults can also find meaningful opportunities to spend time with the kids when we all unplug. From board games to craft projects to playing in the park, there are many ways we can unplug for some family fun.

While you and your children are disconnecting, take a moment to identify potential energy savings. Unplug electronics that are not in use to avoid "vampire" energy loss. This is the energy that is drained from technology and electronics even when they are not in use. For example, although it is turned off, your TV is waiting to receive a signal from the remote and your DVR is waiting to record the next show or perform an update.

Let's encourage youngsters to step away from the screens and join in. To play and be part of an organization that helps them connect with others and find meaningful interactions and explore new activities and interests.

When you do plug back in, FPU is here to help you save money and energy by connecting you with our energy saving programs and services. While we'd love to see you in person, we're also just a call or click away. Visit our website at fpu-tn.com or call us at 931- 433-1522.

Not just a good idea — it's the law!
Most of us instinctively slow down when we spot the flashing lights of a law enforcement vehicle or an ambulance on the side of the roadway ahead. But that's not enough.

As drivers in the state of Tennessee, we have a statutory responsibility to move over into the next lane (after it's safe to do so) if we encounter an emergency vehicle. In other words, it's the law. If it's not possible to safely move into the next lane, then we have an obligation to reduce our speed accordingly.

The need to move over for an ambulance, police car or fire truck seems pretty obvious, but there are other types of vehicles that need a wide berth: utility vehicles, highway maintenance vehicles, tow trucks, solid waste trucks and other vehicles operated by those whose job requires them to work alongside roadways.

It may seem like a matter of common sense, but failure to obey the "Move Over" law is punishable by a fine of $500; violators can also be subject to up to 30 days of jail time.

This is more than a matter of courtesy to others; you or someone you love who happened to experience car trouble could benefit from the law. That's because a recent amendment included any personal vehicle that has pulled over with hazard lights flashing. And the law applies to any road in the state — from a small residential street to a busy interstate highway.

 
The consequences of ignoring the Move Over law can involve much more than penalties for those who violate it. Just over a year ago, a supervisor with the Tennessee Department of Transportation was struck by a motorist while working along I-40 in Knoxville and had to be hospitalized.

From my own point of view, I can imagine few things more disturbing than being informed that one of FPU's employees was injured — or worse — from being struck by a vehicle while working along one of the roadways in our service area. Our workers always take care to wear high-visibility safety vests. We place cones around our roadside workspaces and, if the situation calls for it, use "flaggers" to help route traffic around the area where we're working.

But none of those precautions will make the slightest bit of difference if a driver fails to move over or slow down. The safety zone established by the Move Over law is designed to protect the lives of those whose truly essential work requires them to operate along our roadways. Don't we owe these folks the courtesy of not making their (often hazardous) job even more dangerous than it already is?

Put yourself in the position of having a loved one working within this "side of the road" space. We'd all be grateful to those who strictly obey the Move Over law. Instead of finding motivation in your desire to avoid being ticketed, fined or even jailed, I hope you'll decide to move over and slow down because it's the right thing to do.