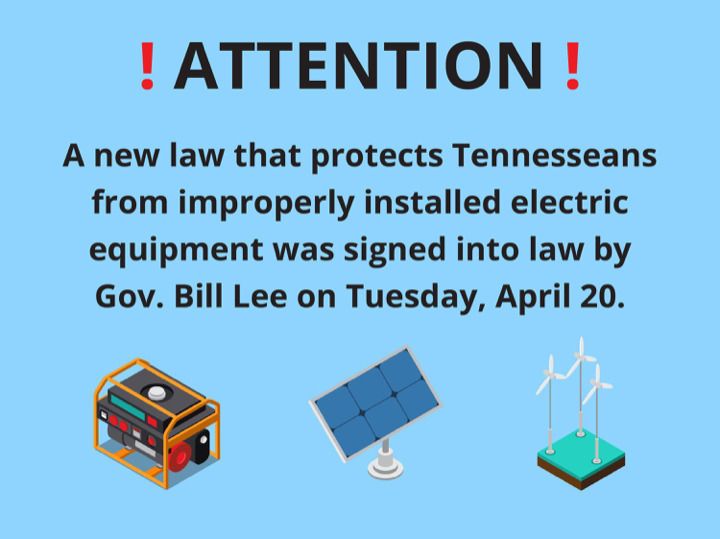 Gov. Lee signs law protecting Tennesseans 
The law requires owners of generators, solar panels, wind turbines or other electric generation equipment that is connected to the power distribution grid to notify Fayetteville Public Utilities (FPU) and install an automatic disconnect switch that is accessible to FPU.
Lincoln County was the first in Tennessee to get electricity. Electric lines were built to the Blanche community and the first electric lightbulb was turned on in October of 1935.

The Lincoln County Electric Membership Corporation was formed by rural farmers and residents to bring electricity to the county areas. This system was formed as an electric cooperative.

Our electric department currently serves over 19,000 customers and maintains over 2,100 miles of electric lines in Lincoln County. Not only do we provide electric services
,
we also offer a variety of other services and programs.
ELECTRIC FAQ
How much does a security light cost?
Please see the Electric Rates page.

How do I establish 
new service?
You may apply for utility service at the Fayetteville Public
Utilities
offices between 7:30 a.m. and 4:30 p.m., Monday through Friday. You will need to provide two proofs of identification (one should be a picture I.D. card), complete a service application, and pay the applicable security deposit and fees.  You may also apply for new service online if the location has an existing electric meter. Just click on the tab at the left of the page and follow the step-by-step directions.  It's simple!

I am about to move to another part of FPU's service area - do I have to pay my deposits all over again to get service installed?
If you move to another location within the FPU service area, with a good payment record, your transfer can be accepted by phone and the service charge billed to your new account. Your deposit will be transferred to your new account, and you may have active service at both locations for three business days if needed to give you time to move. If other arrangements are necessary, please contact a customer service representative at FPU.

Does FPU trim the trees in my yard near the electric line?
No. Our responsibility in providing you with uninterrupted electric service is to clear trees and brush away from the electric right-of-way.  This area is usually 15 feet from the 
center line of the road. The trees in the yard are your responsibility. FPU will be happy to remove your service line from the tree and clear the line from your house to the electric pole while you have the tree trimmed or removed. Please call us to schedule in advance.

I am leaving FPU's service area - what should I do regarding my utilities?
If you move outside of our service area, contact our office in advance. Please provide a forwarding address and the date you wish the service disconnected. If we are holding a deposit, it will be applied to your final bill. If there is a remaining balance, it will be mailed to your forwarding address.

I am confused about all of the deposits - can you explain FPU's deposit policy?
Please click here for deposit information.

How can I save money on my electric bill during the winter months?
We have a full page of helpful tips for reducing your energy usage during the winter months that you can view here.